View email via our website
Thank you to all who have renewed their membership for 2019. so far and welcome to all new members of the Surrey League. Membership is steadily increasing so that is good. Please be aware that your racing license and membership pack (see below) will be ready early March and we plan to hand these to you at your first event.
stolen goat sponsors Women's Racing and the Overall Women's Rankings
stolen goat, a stylish cycle clothing company based near Hook in Hampshire has kindly sponsored women's racing for 2019. This means that for each of the 12 rounds of racing at Dunsfold Park on Friday evenings, stolen goat will provide a prize for the winner. In conjunction with these prizes, they will also provide a 'Combativity' Award for a women rider after all 12 events have finished.
PLUS; stolen goat will also sponsor the final overall Women's rankings for 2019 and award the top 3 podium places with large cash value vouchers (1st – £100.00, 2nd – £75.00, and 3rd – £50.00).
For more information, please visit the dedicated web page for the stolen goat women's series.
Surrey League racing WAS going to commence this Weekend
This weekend would have seen Kingston Wheelers kicking off the Leagues' racing season with their planned 2 events on the Dunsfold circuit. But due to the over-running of roadworks, which will benefit us as cyclists in the long term as fresh tarmac is replacing the various potholes on the course, has meant that for a 2nd year both races have had to be canceled. To say that everybody involved is gutted is an understatement, but the league will try and re-arrange these races for a later date.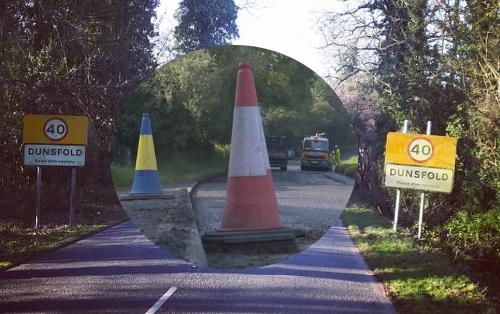 original image credit: pickupsportscoaching
The morning race would have featured a full field 3rd cats all prepared to complete 60 miles and Kingston Wheelers would have presented the biggest line up of riders with 8. Then the afternoon race again would have featured a full line up of riders with the biggest contingent coming from Southdowns Bikes Casco Pet.
We would like to thank the commissaire and promoting club who have done a lot of work with Thames Water over the last week or so trying to make sure the events could go ahead. We will hopefully be able to re-arrange the events at a later date. All riders that have pre-entered will be refunded via RiderHQ.
Surrey League Club/Team/Rider 2019 Affiliation
Club/team/rider affiliation is steadily growing, but please remember that if you want to affiliate to the league then your club/team must be affiliated first. Rider affiliation is done via RiderHQ, but clubs/teams can download the form from our website and send to Glyn.
Weekend events in March/April (updated)
17th March – Brighton Mitre promote two events on the Kirdford circuit with a 3rd cat event planned for the morning with riders covering approx 50 miles. It is then followed by a 2nd/3rd cat event in the afternoon with these riders tackling 60 miles. The 3rd cat race is sold out but spaces are still available for the 2/3 event.
31st March – Dulwich Paragon promotes a 2nd/3rd cat event using the Lingfield circuit with the riders covering approx 65 miles. This event is now open on RiderHQ (spaces are still available).
7th April – Farnborough & Camberley promote two events on the Seale Circuit. A 3rd cat event is planned for the morning (09:30 am), which will cover approx 50 miles, followed by a 2nd/3rd cat event in the afternoon (1:30 pm). Both events are open to enter via RiderHQ (spaces are still available for both events).
Race Calendars (updated)
The race calendars are live on our website and are continually changing, but we must stress that the Handicap and Weekend event are still provisional only.
Novice Race Preparation Training Sessions (updated)
Please remember that if you are new to the Surrey League, and a 4th cat male/female rider, you will need to complete 2 Novice Race Preparation Training Sessions before being allowed to race with us. Once passed, you'll be given an accreditation card which you must bring with you to your events as well as your Surrey League and BC race licenses.
A few years ago, the Surrey League introduced 'Race Preparation Training Sessions'. These have the aim of introducing basic and advanced group riding skills to all novice 4th cat riders (men and women) so they are more prepared for competitive racing. They are run by qualified British Cycling coaches, with the help of a number of experienced riders, on various traffic-free circuits in the Surrey area.
More details are available on our website and you can enter the sessions via RiderHQ.
The next sessions available are;
South of England Event Centre (23rd March) – SOLD OUT
Precise Performance 4th Cat Series
We are pleased to announce that Precise Performance, a company delivering bike fitting & coaching services, is sponsoring the Friday night 4th cat series at Dunsfold Park. Precise Performance will be donating 12 prizes to each race winner and is in the form of a voucher for a Fitness Test at their studio in Herriard, near Basingstoke.

Further details can be found on our website and you can also visit their website for a full list of services they provide.
Amendments for 2019
This year we are making a couple of changes to two of our series. The changes are needed to help aid the riders and also race promoters.
Firstly, the Vets series. In the past, the format has always been one race two age groups (40+ and the 50+). Well in 2019 this will change to three age groups (40+, 50+, and 60+). This is to aid and encourage others to race and be rewarded with league positions and points. The same system applies, everybody races together, but the results will be split into the new age groups rather than 2 age groups as in previous years.
Secondly, the Handicap events will now be on RiderHQ. This will help riders, as well as promoters, regards cash on the night. You can still enter 'on-the-day' mind you if you prefer.
Membership Pack (updated)
This weekend (Saturday) would have seen the Surrey League hand out Membership Packs to the riders planning on racing the Kingston Wheelers events on the Dunsfold Circuit. All members will receive a Membership Pack, with their Surrey League license, but when they sign-on at their first event.
More information regarding the Membership Pack can be found on our website and its thanks to our sponsors for providing the product/discounts you'll receive.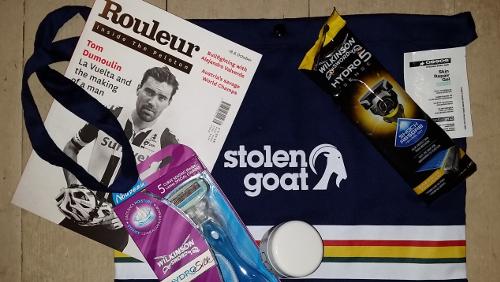 Sponsors (updated)
As well as stolen goat (sponsoring Women's racing and overall rankings) and Precise Performance (sponsoring 4th cat series), we also have Rouleur, Wilkinson Sword, MOA, Assos (Care Products), and Pelotan all supplying product as regards our Membership Packs.
R Squared Industries have also provided a discount code for members for product sold on their website. For a full list of our current sponsors, please view the updated Sponsors page on our website.
The Road Book
The Road Book have kindly allowed members a 10% discount code (SURREY2018) when purchasing from their website (www.theroadbook.co.uk). High-quality images and more information can be found on our website.