View email via our website
Coronavirus (COVID-19) and Surrey League events
The most common symptoms of Coronavirus are recent onsets of a new continuous cough and/or a high temperature (+37.8 degrees). For the foreseeable future, if you have symptoms of the Coronavirus infection (COVID-19), however mild, stay at home and do not attend these events.
For those of you attending these events, clean your hands frequently throughout the day by washing with soap and hot water for 20 seconds or by using a hand sanitiser. Also, cover your mouth and nose with disposable tissues when you cough or sneeze.
So what happened last weekend?
Last Saturday began the Surrey League racing season with 2 events held on the Dunsfold circuit. Kingston Wheelers promoted both events and thankfully both races, even though riders and organisers faced several challenges on the day, suffered no major incidents with everyone getting round safely.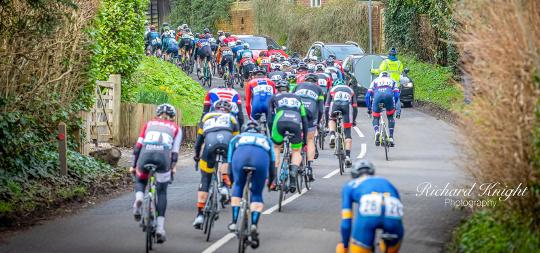 A full rave report will follow within a couple of days with plenty of photos to view.
This weekend, Sunday 15th March will see Brighton Mitre promote their events on the Kirdford circuit. Like last week the racing begins at 9.30 am with the 3rds followed at 1.30 with the 2/3 event. Looking at the weather forecast though, we could be in for a wet day so marshals and Brighton Mitre folk, pack some wet weather gear. As regards the riders, well it looks like you're going to get wet so come prepared. But let's hope the British weather is changeable and that dry weather blesses us on Sunday.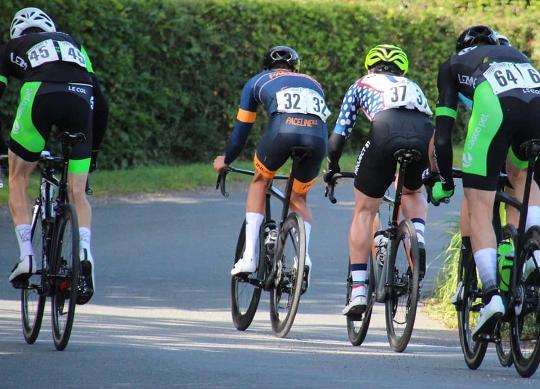 The 3rd cat race, covering 50 miles (5 laps), has a full field with various teams having 4 or more riders present. These include Team TMC, VC Meudon, Surrey Hills Cycleworks, Paceline RT, and Kingston Wheelers.
A strong line up of riders will be present for the 59 mile, 6 laps, 2/3 event in the afternoon with Meudon – Pedal Heaven Le Col RT fielding, by far, the largest team of the day. They bring 9 riders to the race with many fresh from their 4-day training camp. Hunt Bike Wheels bring 5 riders with VC Londres and Southdowns Bikes fielding a 4-man squad each.
CAUTION NOTE; please be reminded that the course has not stood up to the recent wet weather very well. There are sections of poor road surface and a number of potholes. The worst sections will be marshalled, so take care. It is not advisable to use light wheels and tyres on this course at the moment.
Weekend racing in April and beyond
Then in April, Sunday 19th, Farnborough and Camberley promote their two events on the Seale circuit. Racing begins with a 3rd cat race in the morning with riders covering approx 55 miles. This is followed by a 2/3 race in the afternoon (1 pm start time) and provides riders 60 miles to cover.
Following the Seale races, VC Meudon then promotes 2 events on the challenging Milland circuit on the 26th. Like the weeks before, the morning event caters to the 3rd cat riders with 50 miles on the cards. The afternoon race, for 2nd/3rd cats, gives the riders 60 miles to tackle and even more ascents up the finishing climb of Milland Hill.
Please note that this email will only show events that are open (on RiderHQ) for you to enter. A full list of events is displayed on our Weekend Road Races website page with links to RiderHQ (regardless if events are currently Open or Closed).
Rouleur Handicap Series
The popular Handicap series, now sponsored by Rouleur, commences on Thursday 30th April with event 1 being held on the Kitsmead lane circuit. Entries have opened for this so you can enter via RiderHQ or if you prefer at the event.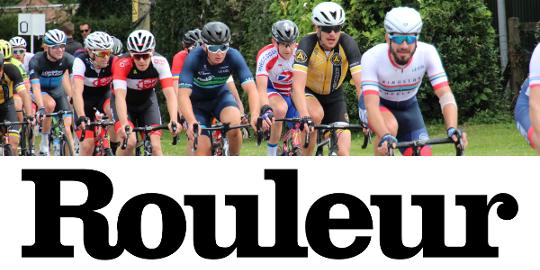 The series consists of 14 events using various courses within the Surrey area and finishes with the Handicap Championships – held in September. You can enter all the events via RiderHQ or if you prefer, on the day of the race at race HQ.
Please note that this email will only show events that are open (on RiderHQ) for you to enter. A full list of events is displayed on our Handicap series website page with links to RiderHQ (regardless if events are currently Open or Closed).
Racing for Women
The Surrey League provides a varied calendar of events for you to compete in, depending on your ability level and confidence, but of Friday evenings there is a dedicated series available for 3rd or 4th cat (novice) women. This series is called the 'stolen goat Women series' and is held at Dunsfold Park with races distances being 27 miles in length. More details on the stolen goat Women's series can be found on our website.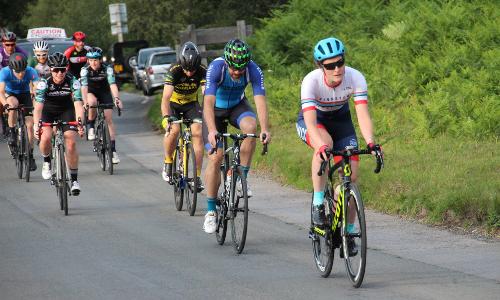 If a higher category, or 3rd or 4th, then you can ride any of the Handicap events, Vets races (Dunsfold Park) or weekend road event but please remember that is you wish to gain any BC points you'll need to finish with the men in the top 10. You'll still get SL points regardless of finishing position though.
The Surrey League Calendar
All of our planned events for this year are listed on our website. Each of the different types of series that are available, Handicap series, Vets series, etc, will now have their own web page and will display dates, courses, and the promoting clubs.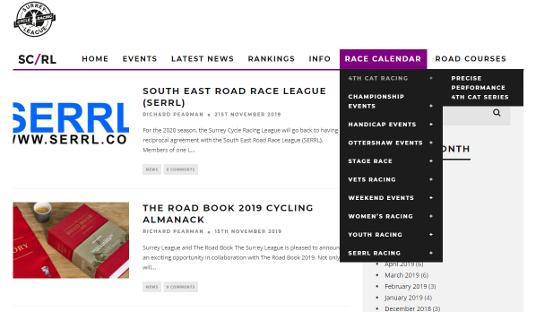 Each web page is accessible from the new 'Race Calendar' link located in the main navigation along the top of the page. As always, these dates remain provisional, but BC has now approved these so as far as we are concerned, they are good.
The South East Road Race League Race Calendar
To view the full racing calendar and to enter their events, please visit our website for further race dates as they won't be listed on this email.
Membership Packs
All members will receive a Membership Pack with their Surrey League license (which is being sent by post). The packs will be handed out from early March and contain various small product items donated by our sponsors. More information regarding the Membership Pack can be found on our website.
Novice Racers Training Days
If new to the Surrey League, and a 4th cat male/female rider, novices will need to complete 2 of these sessions before being allowed to race Surrey League/SERRL events. Once passed, riders will be given an accreditation card that must be brought to events as well as a Surrey League and/or BC race licence.
These sessions have been designed to introduce basic and advanced group riding skills to prepare novices for competitive racing. They are run by qualified British Cycling coaches, with the help of a number of experienced riders, on various traffic-free circuits in the Surrey area.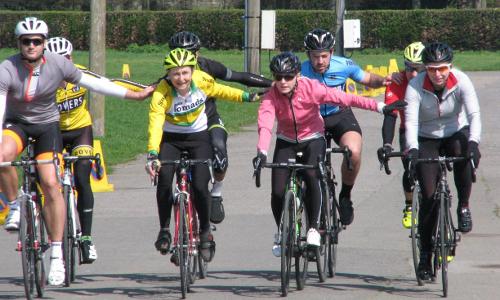 If you know of friends/club or teammates who wish to race any Surrey League or SERRL events next year, please let them know of the date(s) available.
The next session available is;
Free Surrey League Membership
If you have completed both of the Novice Racers Training Days, then you will be eligible for free membership to the Surrey League. Glyn will sort this for you once he receives notification that novices have passed.