View email via our website
Last week saw the final rounds of both the Precise Performance 4th cat series and the stolen goat women's series (results below). Both events (one race) were held in sunny conditions and was a fitting end to the 12-week series. The race featured various attacks from riders, including Kameliya who drove hard splitting the field at times, but in the end, it came down to a bunch sprint. The results are shown below;
4th Cats
1st Matthew Sim, Dorking CC
2nd Moustafa Fawzy, Paceline RT
3rd Ross Vart, VC Godalming & Haslemere
4th Andrew Thomas, Team Velo Sportif (TVS)
5th Rylan Hughes, TVS
6th Bryn Reeves, Horsham Cycling
7th Keith Pope, Dulwich Paragon CC
8th Oscar Subun-Symons, Dorking CC
9th Mark Weight, Private Member
10th Jan Schnitker, Charlotteville CC
Women
1st Claire Leonard, Southdowns Bikes CASCO pet Racing Club
2nd Rachel Jenkins, North Hants RC
3rd Nikki Wheeler, i-Team.cc
4th Kameliya Stoyanova, Private Member
5th Marnie Wilson, Charlotteville CC
The midweek racing may have come to a close, but racing is still available for 2nd/3rd cats throughout August and September.
This starts with Redhill CC and their promotion (11th August) on the Norwood Hill circuit. Looking at the start sheet, a full field of 60 riders have entered the race which consists a good spread of riders from various clubs/teams from the league. Paceline RT brings the biggest squad with 7, closely followed by Kingston Wheelers with 6 and then Crawley Wheelers with 5.
The racing kicks off at 09.30 with the riders tackling 51.5 miles (5 1/4 laps). Race HQ will be Newdigate Village Hall (RH5 5DB) and has limited car parking. If watching the race, the finish is located on Stan Hill and about 3 miles from race HQ.
Weekend Road Racing
The last remaining road race events are;
18th August – Crawley Wheelers promote 2 events on the Sharpthorne circuit. The morning event catering for 3rd cat riders whilst the afternoon event caters for 2nd/3rd cat riders. You can enter these events via RiderHQ.
31st August – Addiscombe CC promote the annual 4-up Team Time Trial Championships on the Alford/Kirdford circuit. You can enter this event via RiderHQ.
8th September – Sussex Revolution will be promoting a single event for 2nd/3rd cat riders on the Barcombe circuit. You can enter this event via RiderHQ.
15th September – Norwood Paragon will be promoting the annual Handicap Championships on the traditional circuit of Kirdford. You can enter this event via RiderHQ.
6th October – Meudon-Pedal Heaven LeCol will be promoting a single event for 2nd/3rd cat riders on the Seale circuit. Entry does not open until 6th August, via RiderHQ, but you can join a waiting list if you wish.
Team Time Trials Championships
This year, Addiscombe CC has taken over from Clarencourt CC to promote the popular and successful Team Time Trial Championships. Like in previous years, the course takes the riders around 2 laps of the Alford/Kirdford circuit which covers 34 miles.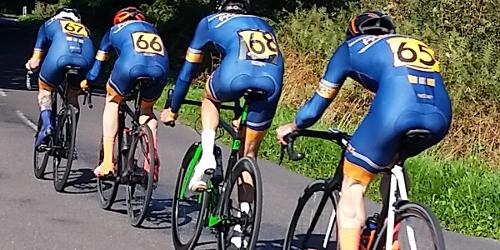 Racing kicks off around 1 pm with teams split by 4 minutes. Teams can have a minimum of 3 riders, max of 4 is recommended, but to qualify for a finish time on the scoreboard, 3 must finish.
Perhaps time to start thinking about your team(s) you wish to enter.
Novice Race Preparation Training Sessions
Please remember that if you are new to the Surrey League, and a 4th cat male/female rider, you will need to complete 2 Novice Race Preparation Training Sessions before being allowed to race with us. Once passed, you'll be given an accreditation card which you must bring with you to your events as well as your Surrey League and BC race licenses.
They are run by qualified British Cycling coaches, with the help of a number of experienced riders, on various traffic-free circuits in the Surrey area. More details are available on our website and you can enter the sessions via RiderHQ.
A new date has been added;