View email via our website
This weekend sees Crawley Wheelers promoting their events on the Sharpthorne circuit. Unfortunately though, due to road works (ongoing waterworks), the course has been shortened to a 1.9-mile circuit. Rather than cancelling it altogether, Lee, the promoter, has devised the shortened course so to allow the racing to continue. Racing will be 30 miles, for both events, and equates to 15 3/4 laps.
Both races consist of around 35 pre-entered riders each with no club/team having a large contingent present. With a shortened circuit, racing looks like it will be quick and full-on from the start so maintaining a good position will be key. Let's hope the wet and windy weather is replaced by warm and calmer conditions.
Spaces are still available with entries either taken on RiderHQ, up to midday Saturday, or on-the-day at the event.
Redhill CC Norwood Hill Road Race.
Last week Redhill CC promoted their event on the Norwood Hill circuit. The race was won by Jeremy Meredith with Gavin Arber 2nd and Matthew Weddber 3rd. Full results are available to view.
Weekend Road Racing
The last remaining road race events are;
31st August – Addiscombe CC promote the annual 4-up Team Time Trial Championships on the Alford/Kirdford circuit. You can enter this event via RiderHQ.
8th September – Sussex Revolution will be promoting a single event for 2nd/3rd cat riders on the Barcombe circuit. You can enter this event via RiderHQ.
15th September – Norwood Paragon will be promoting the annual Handicap Championships on the traditional circuit of Kirdford. You can enter this event via RiderHQ.
6th October – Meudon-Pedal Heaven LeCol will be promoting a single event for 2nd/3rd cat riders on the Seale circuit. Entry does not open until 6th August, via RiderHQ, but you can join a waiting list if you wish.
Team Time Trials Championships
This year, Addiscombe CC has taken over from Clarencourt CC to promote the popular and successful Team Time Trial Championships. Like in previous years, the course takes the riders around 2 laps of the Alford/Kirdford circuit which covers 34 miles.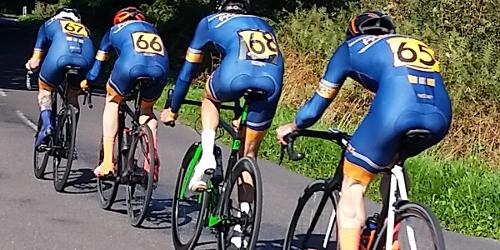 Racing kicks off around 1 pm with teams split by 4 minutes. Teams can have a minimum of 3 riders, max of 4 is recommended, but to qualify for a finish time on the scoreboard, 3 must finish.
Perhaps time to start thinking about your team(s) you wish to enter!
Novice Race Preparation Training Sessions
Please remember that if you are new to the Surrey League, and a 4th cat male/female rider, you will need to complete 2 Novice Race Preparation Training Sessions before being allowed to race with us. Once passed, you'll be given an accreditation card which you must bring with you to your events as well as your Surrey League and BC race licenses.
They are run by qualified British Cycling coaches, with the help of a number of experienced riders, on various traffic-free circuits in the Surrey area. More details are available on our website and you can enter the sessions via RiderHQ.
A new date has been added;