View email via our website
Yesterday, Addiscombe CC promoted the Team Time Trial Championships on the traditional 34-mile circuit of Alford/Kirdford. This year numbers were a lot lower than in previous years but this didn't deter some hard racing by all the teams present.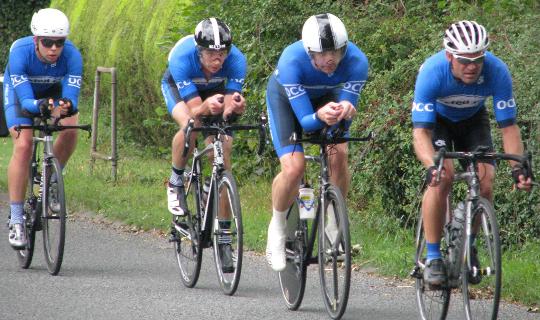 Bathed in warm sunshine, the first team to be sent on their way was the Vets team from Oxted CC who were pushed away at 13:03.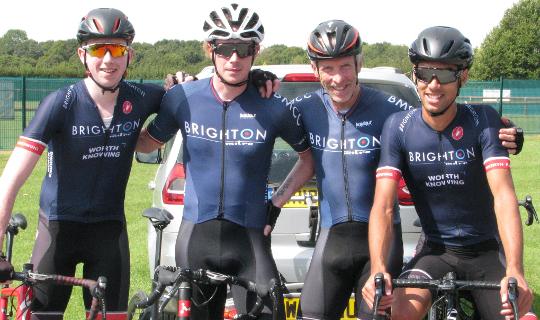 During the event no incidents were recorded, which was great, and in the end, it was Kingston Wheelers who came out tops winning with a time of 1:15:28. Brighton Mitre finished 1:56s off the leaders to claim 2nd place finishing with a time of 1:17:24. 3rd went to Oxted CC with a time of 1:18:07.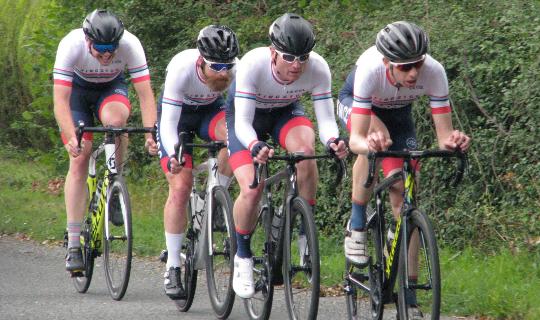 A super day of racing with Addiscombe CC hosting the event superbly.
Podium Results
1st
Shaun King, Kingston Wheelers, 01:15:28
1st
Mark Aldred, Kingston Wheelers
1st
Declan Egan, Kingston Wheelers
1st
Jason Ashby, Kingston Wheelers
2nd
Michael Coyle, Brighton Mitre, 01:17:24
2nd
Lawrence Coyle, Brighton Mitre
2nd
Ben Huttly, Brighton Mitre
2nd
John Tindell, Brighton Mitre
3rd
Simon Arnold, Oxted CC, 01:18:07
3rd
Chris Balkham, Oxted CC
3rd
Rich Heath, Oxted CC
3rd
Tim Whitehead, Oxted CC
Full Results
Sussex Revolution Barcombe Road Race
This coming Sunday (8th) will see Sussex Revolution promote their 2nd/3rd cat road race on the Barcombe circuit. The event kicks off at 09.30 with the riders covering approx. 60 miles.
Currently, teams from Paceline RT, Southdowns Bikes CASCO Pet Racing Club, and Meudon-Pedal Heaven-Le Col RT are in with each fielding around 5 riders. Spaces are still available, via RiderHQ (see below), with the closing date being 7th September (midday).
Weekend Road Racing
The last remaining road race events are;
8th September – Sussex Revolution will be promoting a single event for 2nd/3rd cat riders on the Barcombe circuit. You can enter this event via RiderHQ.
15th September – Norwood Paragon will be promoting the annual Handicap Championships on the traditional circuit of Kirdford. You can enter this event via RiderHQ.
6th October – Meudon-Pedal Heaven LeCol will be promoting a single event for 2nd/3rd cat riders on the Seale circuit. ou can enter this event via RiderHQ.
Ottershaw Series
The popular Ottershaw Series is now open to riders on RiderHQ. All events start at 11 am and open to E/1/2/3 category of rider.
The events dates are;
VC Meudon-Rideabout Farnborough Flyer
A sportive by riders, for riders in support of riders. See out the Summer with a ride from village to village, taking in some of the area's finest lanes and views. A choice of three scenic routes on quiet roads with three different distances depending on the amount of climbing you want to take on. There's plenty of support from local businesses so, except free parking, decent food stops, and chip timing.
Starting and finishing at the Village Hotel, the routes are as follows; Short Haul (21 miles), Medium Haul (50 miles) and the Long Haul (75 miles).
The Farnborough Flyer is a Not-for-Profit event run by Rideabout Cycling Coaching, Rushmoor Borough Council, and Velo Club Meudon to raise money to support local young cyclists.
Date; 29th September (Sunday) starting at 8.30 am and you can enter via British Cycling's website