View email via our website
Tonight would have seen the 1st round of the Rouleur Handicap series taken place on the Kitsmead Lane circuit, but as you all know, due to the current COVID-19 pandemic it has been cancelled as well as the planned 8 events after. With this in mind, and after speaking with the guys at Rouleur, we have decided that the prizes for each of the first 9 cancelled events will still be awarded.
So all 1st, 2nd, and 3rd cat riders, both junior and men, who have joined the Surrey League for 2020 will have their names placed into a musette, and every Thursday evening a name will be drawn revealing the evening's 'Lucky Dip' race winner.
The prize is a ticket to the Rouleur Classic show which is held at Victoria House in London during the first week of November. Obviously this is subject to any social distancing or restrictions that may/may not be in place at that time.
'Lucky Dip' Dunsfold Park Racing
As regards the Precise Performance 4th cat series and the stolen goat Women's series and due to the loss of racing at Dunsfold Park, thanks to the new housing development being built, the same is going to happen with these. Each Friday, starting from the 15th May and finishing 15th July, all 4th cat and Women riders will have their names placed into two separate musettes with 10 names (starting with 10th place) being drawn out for each series. We will then allocate Surrey League points to the top ten results ending with an overall for each series.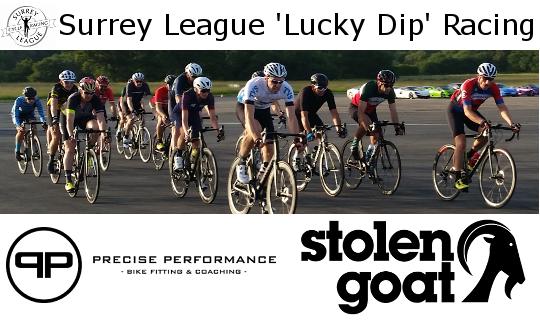 Obviously this can't replace the actual racing and with some riders not having, or wanting, access to online platforms such as Zwift, etc, this was the only way we could fairly include members into having a chance to win. The winner of each event will then receive their prize, thanks to both Precise Performance and Stolen Goat, sometime after via our postal service. All results will be shared on our website and FB page.
Please note that it's only one prize per person so if a person is drawn a second time, their position will stand, but the prize will move to the 2nd placed rider of that event.
Free 3 Month Commute Membership for all NHS Staff
On the 16th April British Cycling introduced a scheme whereby all NHS workers will be offered a free 3-month Commute membership. The scheme will run from April to the end of June and hopefully provide NHS staff with additional support and peace-of-mind insurance.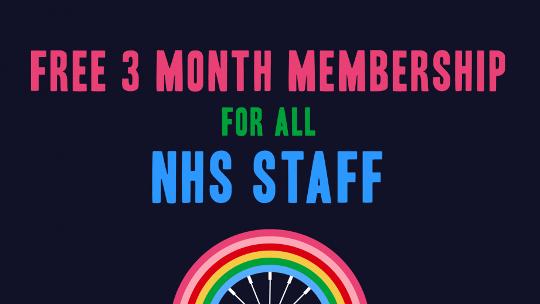 Coronavirus (COVID-19) and BC/Surrey League events
The Surrey League has cancelled all its events in April, May, and June 2020 under the advice from British Cycling and the Government due to the developing situation around Coronavirus/COVID19. Any riders who have pre-entered these Surrey League events will receive a refund of their entry fee in due course.
A full list of Surrey League events that have been cancelled are listed on our website and the press release from British Cycling can be read on their website.
Just a gentle reminder…
only leave the house to shop for basic necessities, eg essential food, and medicine – alone, or with a member of your household, and which must be infrequent as possible
stay 2 meters (6ft) away from other people
wash your hands and keep all surfaces that are touched clean on a regular basis
only go out for one form of exercise a day, either alone or with members of your household
and…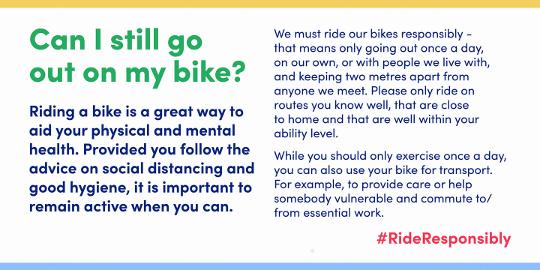 British Cycling and Sports England
With current Government advice recommending against non-essential contact and all unnecessary travel, British Cycling is joining with Sport England and encouraging the cycling community to #StayInWorkOut.

British Cycling has put together a collection of Virtual Cycling and Eracing activities. One of these, launched a few weeks ago, is their 'Race Series' – an eight-week series of races and workouts on the popular online training platform Zwift. This has been designed for people to have fun and stay active during the global uncertainty around the coronavirus pandemic.
#StayInWorkOut
With many of us having to stay indoors for the foreseeable future, Sports England has gathered together various tips, advice, and guidance on how to keep or get active in and around your home.
Weekend racing in July and beyond
With all British Cycling sanctioned events cancelled throughout April, May, and June, we are hoping that July will see racing commence again, but this is very much uncertain at the moment. Once we know either way then we'll inform you also.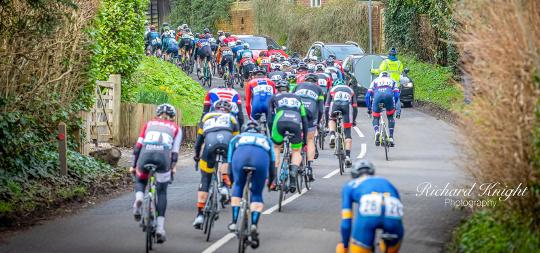 To see what racing is available from July, please visit our website page for Weekend Racing
Rouleur Handicap Series
With the majority of the Handicap races cancelled, due to the above, the 1st event (race 10) will be July 2nd. VC Londres plan to host this race on the South Nutfield circuit, but confirmation of this will come in due course.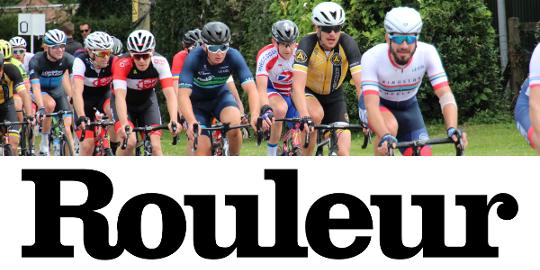 The series now consists of 5 events (unconfirmed) using various courses within the Surrey area and finishes with the Handicap Championships which are held in September. You can enter all the events via RiderHQ or if you prefer, on the day of the race at race HQ. Visit our website page regarding our Handicap events.
Event 10 will open from the 2nd May
Events 1 to 9 – Cancelled
Yellow Jersey Cycle Insurance and the Surrey League
We have teamed up with Yellow Jersey Cycle Insurance to offer our members a 10% discount off bicycle and cycle-specific travel insurance.
Cycling has risks especially when racing. Insuring yourself and your bike will allow you to ride, train and race stress-free, safe in the knowledge that you are covered for theft, accidental damage, and liability.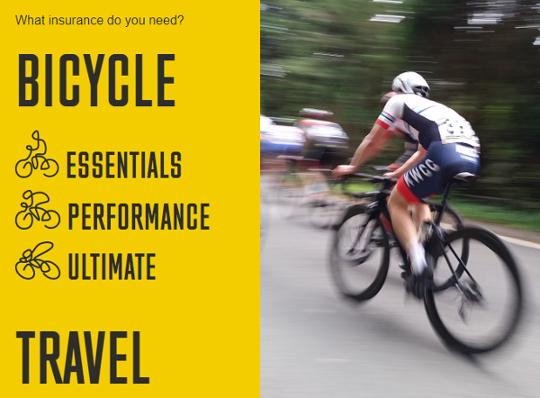 Their policies will cover you for all year round riding, sportives, and races, cycling abroad, your accessories, clothing and wheelsets, emergency physio, dental and permanent injury. Also, their 'Ultimate' package specifically offers cover while racing and also will cover race cancellation fees.
To obtain your 10% discount, just enter the code SURREYLEAGUE10 at checkout via the links mentioned here. Feel free to call their team on 03330030046 with any questions or click here to find out more.
Need a travel insurance quote? – try it out now
Further details can also be found on our website.