View email via our website
We hope this email finds you well. Since the last email not much has changed as regards the Surrey League as all of our remaining races, 13 in total, still remain 'on hold'. The 'Lucky Dip' events – Rouleur Handicap series, the Stolen Goat Women's series, and the Precise Performance 4th cat series have all come to a close with all winners receiving their prizes.
The Way Forward – updated
Just over a week ago, British Cycling updated their 'The Way Forward' policy and moved from stage 3 to stage 4 in their process, which allows the re-introduction of some competitive cycle disciplines but conforming to strict social distancing measures and protocols.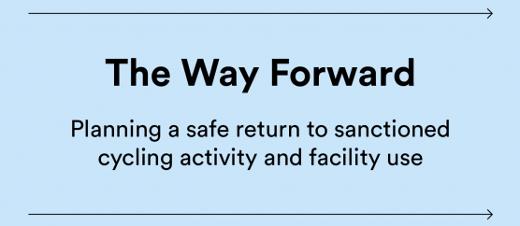 British Cycling says; "As part of a gradual return to activity, British Cycling is ready to support the re-introduction of competitive cycling events in line with UK Government guidance. For cycling, some disciplines and formats present a lower risk than others and are better suited to an earlier return with or without adaptation. This may initially mean smaller-scale races, with more flexible event formats and conditions.
This cycling-specific plan addresses the key considerations and factors required to mitigate against the risks of transmission prioritising a safe return to activity for all participants. This is through the practical application of social distancing and hygiene measures at cycling events and the introduction of COVID-adaptations for activities in which social distancing cannot be achieved at all times.
This guidance will evolve as British Cycling move through the stages outlined in 'The Way Forward' – recently updated from June 2020, and you should note that the guidance contained in the document is currently applicable to England only."
For us though this latest move, as from 1 August, means that racing on the public highway – in the form of bunched road racing, still remains well and truly locked down. Until things improve drastically it looks most likely that our remaining events will be cancelled but this has yet to be confirmed.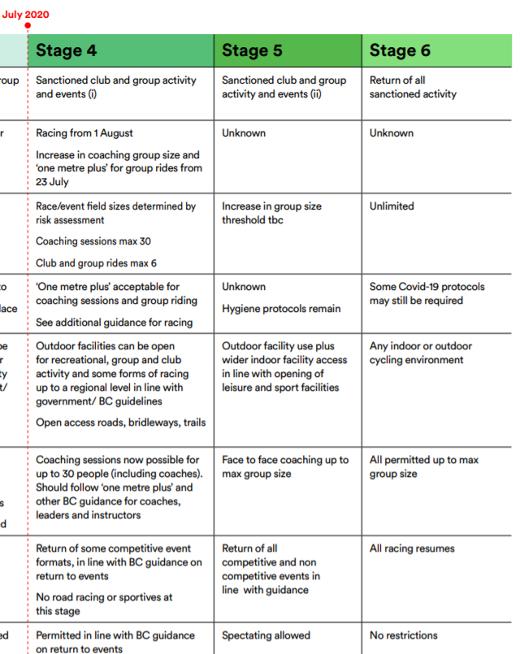 You can also view a hi-res version of this image
Some good news though is the fact that closed-circuit racing will be permitted, but with some very restrictive guidelines. Reading through the updated 'The Way Forward', it looks like racing time will be capped to 15 minutes with field sizes greatly reduced from full fields to 24 riders max. Whether event organisers will be able to promote races and get volunteers to help, remains uncertain. With no closed-circuit races within the Surrey League calendar, you'll have to look at other organisers that are willing to promote.
End of the 'Lucky Dip' Rouleur Handicap Racing
Last week featured the final round of the Rouleur 'Lucky Dip' Handicap series and for the past 14 weeks, all 1st, 2nd, and 3rd cat riders, both junior and men who have joined the Surrey League for 2020, had their names placed into a musette. Then every Thursday evening a name was drawn revealing the evening's 'Lucky Dip' race winner.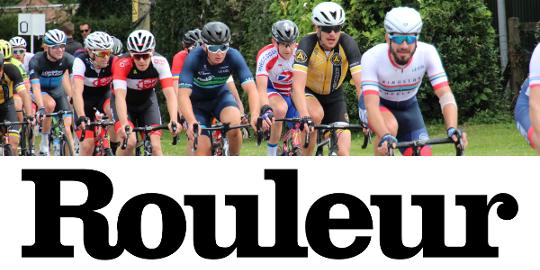 The prize is a ticket to the Rouleur Classic show but may be subject to any social distancing measures that could be in place during November. Please be aware that the event may have to be postponed.
The 2020 winners are;
Event 1 – Andrew Stewart, Lindfield Coffee Works RT
Event 2 – Adam Dart, Farnborough and Camberley CC
Event 3 – Bradley Shenton, Partenza – Nude Espresso RT
Event 4 – Andy Blackman, VC Meudon
Event 5 – Alex Cross, Meudon Sovereign Pedal Heaven
Event 6 – Scott Heyhoe, Farnborough and Camberley CC
Event 7 – Ben Huttly, Southdowns Bikes CASCO Pet Racing Team
Event 8 – Jallani Qureshi, Crawley Wheelers Race Team
Event 9 – Ali Cigari, Kingston Wheelers
Event 10 – Sam Stewart, Racing Club Ravenna
Event 11 – James Bonham, Southdowns Bikes CASCO Pet
Event 12 – St John De Zilva, VC Godalming & Haslemere
Event 13 – Brendon Barnes, Kingston Wheelers
Event 14 – Charlie Heffernan, Hunt Bike Wheels
End of the 'Lucky Dip' Dunsfold Park Racing
For the last 12 weeks, all 4th cat and Women riders, who joined the league for 2020, had their names placed into two separate musettes and each Friday 10 winning names were drawn for each race of both series. Prizes were then awarded and sent out to the winners.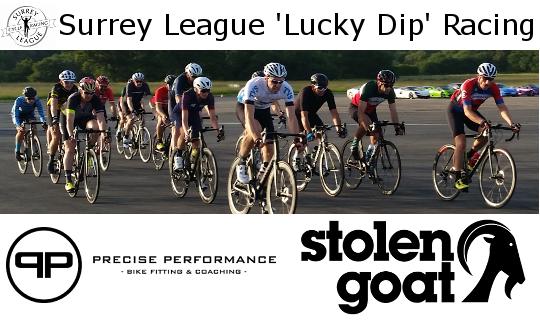 The 2020 winners are:
| | | |
| --- | --- | --- |
| Event | Precise Performance 4th cat series | Stolen Goat women's series |
| 1 | Rich Wilson | Anna Dwyer |
| 2 | Joshua Perella | Caroline Willis |
| 3 | Vince Freeman | Laura Senior |
| 4 | Alvaro Trujillo | Maria Victoria Vazquez-Tojeiro |
| 5 | Joseph Kemp | Sally Hamilton-Savory |
| 6 | Tom Whelan | Sheena Keates |
| 7 | Chris Gray | Nikki Pearman |
| 8 | Greg Lawton | Amy Clarke |
| 9 | David Rawson-Cain | Emma Dalzell |
| 10 | Alex Edge | Allyson Fenlon |
| 11 | Roger Crouch | Nicola Smith |
| 12 | Andy Cowen | Gemma Freeman |
All winners should now have received their prizes.
Yellow Jersey Cycle Insurance and the Surrey League
We have teamed up with Yellow Jersey Cycle Insurance to offer our members a 10% discount off bicycle and cycle-specific travel insurance.
Cycling has risks especially when racing. Insuring yourself and your bike will allow you to ride, train and race stress-free, safe in the knowledge that you are covered for theft, accidental damage, and liability.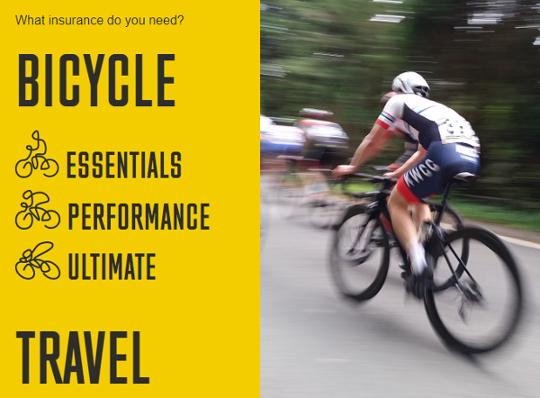 Their policies will cover you for all year round riding, sportives, and races, cycling abroad, your accessories, clothing and wheelsets, emergency physio, dental and permanent injury. Also, their 'Ultimate' package specifically offers cover while racing and also will cover race cancellation fees.
To obtain your 10% discount, just enter the code SURREYLEAGUE10 at checkout via the links mentioned here. Feel free to call their team on 03330030046 with any questions or click here to find out more.
Need a travel insurance quote? – try it out now
Further details can also be found on our website.